Hey guys! So, I thought I would try something new over here at L&L in the form of "What I Ate Wednesday's". Jenn, over at
Peas and Crayons
, is the creator and host of this weekly Wednesday food party. I've seen so many bloggers posting their eats so I thought, why not? I can do it too! I mean, you guys already know what I eat for the most part, but this would be an entire day of food. Yikes! Also, this may or may not be my only WIAW post because I don't want to bore you guys with the sameness of my meals! I basically eat the same thing all the time! If I do decide to do more of these I will try and shake up my meals... or maybe not? Ha.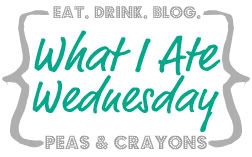 Well, here goes:
As soon as I wake up I have a glass of room temperature water with a squirt of lemon.


I can't eat or drink anything until I've had my water with lemon. I've been doing this for a year and I can't imagine not doing it. It's very alkalizing and gently wakes up my system while flushing the toxins away. It also kick starts the metabolism. (bonus!)
Smoothie time! My go-to breakfast.
I pretty much always have a 'green' smoothie for breakfast. This one actually looks kind of brown but that's just my awesome camera. It was actually an orange/pink color. I didn't have a lot of greens in the fridge so this is just one handful of spinach with some strawberries, mango and banana. It was really yummy! I had this again for a snack later in the day but I didn't remember to take a picture. Ooops!
Coffee! Black please! :)
No explanation needed. I love coffee! I have another cup later on depending on when my lunch break is (no pic - sorry!). I used to drink way too much coffee (is there such a thing?) but I've really cut back since learning about the negative side of coffee. Boo. Unfortunately, coffee is not so great for my skin so I try and limit how much I have. *sigh*
Lunch!
I mean, if you had to guess I'm sure you would have guessed that I would have salad at some point in my day! I almost always have salad for lunch unless I'm too lazy in the morning and then it's another smoothie. This salad was basically just spinach, tomatoes, cucumbers, sprouts, with a balsamic dressing. I also ALWAYS add nutritional yeast and hemp seeds to my salad.
Umm... a snack before dinner?
Okay, don't judge. I totally had (what appears to be) a huge glass of wine but it's really mostly ice! I had to take my cat to the vet's tonight after work. She's what you'd call the "Fiji Vacation I never took". But she's totally worth it!
Patchie!
Look at that face! She kinda looks a little chubby in this photo but that's not the case in real life. Anyway, the vet gave me some pills for the little cutie so that's why I needed the wine... I have to mentally prepare myself to give her the meds tomorrow. Yikes!
Mmm... vegan Pad Thai!
I wasn't too hungry after my little picnic on the balcony but I did have a few fork fulls of this leftover Pad Thai (while standing at the kitchen counter!). Last night a friend and I went out for dinner at a local Thai/Vietnamese place called
Lemon Grass
. We each had the Pad Thai except that mine was Vegan and hers was not. It was so yummy and if you're in the area I would totally recommend this place. My sis and I also ordered take-out from here before and were not disappointed.
Well, there you have it! A day in the life of my eats! If I do this again next week I will try super hard to remember to photograph everything, because there was definitely some coffee and smoothie left out!
I hope you enjoyed it! Let me know what some of your 'staple' eats are and don't forget to head over to
Peas and Crayons
to see some other WIAW posts!
Love,
Ves xx