Hi Friends!
It's been so long since I've done a What I Ate Wednesday post. I mean I'm always sharing my yummy eats but I miss joining the party and linking it up over at
Peas and Crayons
. Time to change that! I've got lot's of yummy photos to show you so let's get started!
I took a week off of work while my mom was in town so that we could spend more time together. My mom spent the weekdays at my brother and sister-in-law's house watching my niece and nephew. So, during that time, I would come over every day with some yummy food for us to enjoy over lunch. Once or twice we would take my niece in the stroller (when my nephew was at school) and walk over to the store to pick up some veggie ingredients. Here's a look at the delicious food we enjoyed over that week (or rather, the food I remembered to take pictures of!):
Lunches...
Salad, salad, salad!
Clockwise from top left: We used yummy greens, made croutons from a baguette, and added a veggie burger to make a fab
Salad Plate
. By the way, you can never use to much sriracha!;
Seven grain salad medley
on top of arugula, cherry tomatoes, avocado and topped with homemade dressing;
Leftover pakoras and samosos
added some yummy texture and flavor to the arugula, cherry tomatoes, sprouts and pepperoncini's;
Dessert from Sweets From the Earth!
Peppermint nanaimo bar and a brownie. So yummy!;
My mom's famous
Bread Salad
. I love it! Chopped baguette with multicolored tomatoes, parsley, green onions and dressing. Delish!
Dinner when my mom stayed over at my place...
Clockwise from top left:
Tacos
! Veggie ground round with lot's of spices added, Daiya shreds, sprouts, avocado, green salsa, sriracha and of course, nutritional yeast;
Portobella Burger
... read all about it
here
;
Veggie Burger
, sweet potato fries and a green salad from a pub we ate at during a visit to Niagara-on-the-Lake;
Bruschetta appetizer
from the same pub, no cheese;
Farmer's Market Dinner!
Kale salad, sweet potato English muffins, mixed greens salad and a sweet potato salad. All from the farmers market.
Food Truck Food!
We went to Holy Food Truck Tuesday again while my mom was here and brought along my sister, sister-in-law and the little ones. My mom and I split the meals you see above from the vegan food truck karma chaMEALeon. From the top:
Jackfruit Tacos
with a mango salsa (I added sriracha after I took the photo);
Philly Cheeze Steak
with fried onions and a side of coleslaw. Both were pretty tasty but my mom preferred the Philly Cheeze Steak.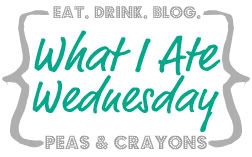 I hope you guys enjoyed the food porn. I'm drooling over the photos and can hardly wait to publish this so I can go and make dinner! This will certainly teach me to write a post on an empty stomach. Ha!
Happy WIAW everyone!
Love,
Ves xx