Hi Friends!
Can you believe it's already Wednesday? I feel like I say that almost every time I write a WIAW post, but seriously, after a holiday Monday I really can't believe it's already the middle of the week! Trust me, I'm not complaining. I love when my work week goes by quickly. What I don't love? This weather! What is up with it? It's sunny and mild out one minute, and snowing the next! I wore a spring coat all weekend and then had to bundle up in my winter coat complete with hat, mitts, and warm boots. I am so over winter!
I'm not here to complain, though, I'm here to talk about food. Tuesday's food to be exact.
Check it out...
My Morning...
As usual, I started my morning off with some room temp. water with lemon and a pinch of cayenne pepper. My Green Smoothie (spinach, mango, banana, oats, flax seed, almond milk) had to be bottled up and taken to-go because I ran out of time in the morning. Don't worry, I slurped it up as soon as I got to work. On my way to work I kept warm with some Chai tea. I'm a little bit obsessed with this tea at the moment and can't seem to get enough of it. Not too obsessed, though, that I don't secretly wish it were coffee! I still have a week or so left of my liver detox, but as soon as I'm done I plan on guzzling a barrel of coffee. On second thought that might just undo all the good I did with the detox... oh well.
Lunch...
For lunch I had a kale salad with tomatoes and avocado dressed with lemon juice and nutritional yeast. I added a pinch of cayenne pepper for a bit of a kick. When I popped home quickly in the middle of the day, I made a Gingerbread tea (another obsession!), and snapped this picture to show just how wacky the weather has been. Mother nature has a wicked sense of humor. (I don't find her funny.)
Afternoon snack...
When I have a sweet tooth my favorite thing lately is to cut up apples and sprinkle them with a bit of cinnamon and a touch of lemon juice. Love it! And since I eat them so often at work, the children have started asking for cinnamon on their apples. Too cute. Whatever makes them eat more fruit is fine by me! I had the apples around 2:30 and then a green smoothie around 4:30.
Dinner...
I had a meeting after work and didn't get home until 9pm. The thought of putting any kind of effort into dinner just did not appeal to me. Instead, I toasted up a couple of slices of Ezekiel Cinnamon Raisin Bread, added some nut butter and a side of sliced apples. I was so exhausted I devoured this while relaxing in bed! My little Patchie girl came by to inspect the goodies and seemed very interested in the almond milk. Too bad I didn't share any with her.
So there you have it, my WIAW goodies from Tuesday. Thanks as always to the lovely Jenn over at
Peas and Crayons
for hosting this fab link-up party.
Til next time...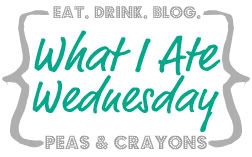 Happy Middle of the Week Day!
Love,
Ves xx