After spending over a week helping my parents (as much as I could) pack up their entire house, they have finally made the move to Digby, Nova Scotia. Last week I spent a lot of my spare time running over to their old house feeding and playing with their cats. My parents drove to Digby from Hamilton, and driving for a few days with cats is not ideal. So they had them stay at the house for a few days and on Thursday I flew out with the little kitties. Have you ever flown with cats? I don't recommend it, especially if you are the kind of person who has a wild imagination and stresses out easily (ahem, me). But the cats made it just fine and were pretty much back to their old selves that evening.
Since I've been here, we've been exploring different parts of their new town. It's really a cute little area and if you go downtown it's a little touristy and very kitschy (which I love). My parents live near the water and my mom and I have been down to the water's edge every day for a little walk.
Steps to the water
Nothing but beach!
This town is full of creative people and just a little drive down the road you see many shops selling super cute antiques, handmade quilts, and all kinds of kitschy decor items for your home.
Just one of the little stops along the highway.
My mom and I can spend hours in the shops just looking at all the little items on the shelves. This of course builds up quite an appetite. Nova Scotia isn't really well known for it's vegan cuisine. In fact, a lot of my friends commented on how it was too bad that I didn't eat seafood because that is the specialty in Nova Scotia. It's basically a fishing and logging town. So if you love lobster, scallops, etc. then you'll be in heaven around here. If you are like me, you will be happy to know that there are a couple of farm markets in the area selling local produce, as well as a really nice organic section at the local supermarket.
One of the local Farm Markets off the road. Only local produce!
On with the food and another
WIAW
! Here's what I ate so far while in Nova Scotia...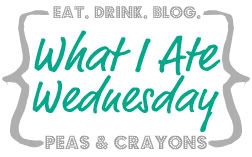 Breakfast...
My mom has been spoiling me by having my water ready when I get up. She also has a thermos of coffee waiting along with a mug. I feel like I'm staying in a hotel!
PB & J
Mostly I've been making toast with peanut butter and jam. But the other day I treated myself to a Tofu Scramble with sauteed spinach and a slice of toast. So yummy. I always have a glass of almond milk to go with my breakfast as well as a green smoothie. My mom felt bad that I didn't have a blender here to make my smoothies so she bought a bottled green smoothie for me. I am so spoiled!
Tofu Scramble
Lunch...
We're not really "lunch" people so I don't have any photos for lunch. Lately we've been stopping for a coffee at Tim Hortons and that's been our lunch. Ha. Well, that along with some sort of snack.
Snacks...
'No-Spray' Strawberries
These strawberries, which came from the Farm Market, were super sweet, 'no-spray' and local!
We've also been eating a lot of trail mix as well as these yummy Skinny Sticks.
Dinner...
We sauteed this gorgeous Swiss Chard from the farmer's market in town. It was so delicious.
Kale salad, couscous, and a veggie burger sprinkled with Daiya Cheese.
Every night we have been preparing some leafy greens, either raw or sauteed, along with some kind of grain.
Spring salad with balsamic dressing and spaghetti with a fresh, homemade tomato sauce.
This is pretty much what I've eaten while on vacation here in Digby. I'm trying to get better at taking pics of my food so stay tuned for some more yummy meals! I'm also hoping to visit some local eats but, like I said earlier, most of them focus on seafood so I'm not sure if that will be happening.
Until next time..
Happy Hump Day!
Love,
Ves xx