Hi friends,
Welcome to another edition of What I Ate Wednesday! This week I decided to do things a little differently. Instead of showing you my Tuesday eats like I normally do, I've decided to show you what I ate on Sunday. To be honest, my weekly eats are slightly boring (not to me, but you're probably sick of looking at the same ol' food) and not very pretty to look at since I use containers and not dishes to bring my food to work. Plus, it's always fun to shake things up a bit. So without further ado, I give you my Sunday eats.
Breakfast:
Lunch:
everyone
is out! When I came back in I made this kale salad with chickpeas, tomatoes, and organic edamame (I love edamame!). I dressed it with lemon and sprinkled some nutritional yeast on top (after the photo was taken, of course).
Dinner:
Epic Sweet Potato Lasagne
that I wrote about in
yesterday's post
, and invited my sister over for dinner. We had it with a side salad of swiss chard, peppers, apples and my mustard vinaigrette. Oh so yummy and second's were definitely had by both of us. I said it yesterday and I'll say it again: You have to make this Lasagne! You will not be disappointed, I promise.
Snack:
Throughout the day I also had several glasses of lemon water and a mug or two of tea. I'm still not drinking coffee (will this cleanse ever end?) but I'm counting down the days until it becomes my daily obsession again.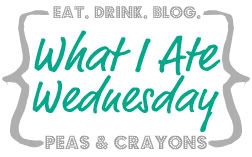 I absolutely love Sunday food, don't you? It's so nice to be able to take your time and make every meal with love. I get that from my mom. She would spend the entire weekend in the kitchen cooking just because she wanted to and because she loved to feed her family. We all used to sneak tastes of whatever she was making, not being able to wait for the meal to be ready. That's one of the things I'm looking forward to when I go and visit my parents this summer... Mom's cooking! Can't wait.
Love,
Ves xx