Hi Friends!
It's Wednesday and you know what that means! I'm linking up again with Jenn over at
Peas and Crayons
for more WIAW shenanigans. Oh, and if it's all right with you I'm going to keep this post light and breezy after Monday's
slightly heavier post
.
Let's get to it!
Tofu scramble with steamed kale, leftover tomato and cucumber salad, and sprouts by yours truly. I'm obsessed with sprouting and always have some in the fridge plus some seeds in a jar sprouting away on the counter.
Since breakfast was kind of huge, I went with a strawberry mango smoothie for lunch. It may not sound like much but this baby was jam-packed with fruit and then thinned out with some coconut water and a splash of lemon juice.
De-lish!
One super delicious organic apple with dijon mustard for dipping. Wait, you don't eat apples dipped in mustard? Ha! Don't knock it 'til you've tried it. The children at my work are obsessed with apples and mustard thanks to my influence. You'll love it too, I promise!
Homemade Black Bean Burgers with Boston lettuce, tomatoes, avocado, sprouts, peppers and homemade polenta fries. I've made this burger plate like three days in a row. I love open-faced burgers with no bun. It's so much more fun!


Bevies...
Water! I drink water all day long and I absolutely love to infuse my water with lemons, limes, cucumbers, etc. But my absolute obsession is mixing coconut water with filtered water and adding a ton of lemon wedges plus lemon juice to it. It's so hydrating, refreshing and tasty.
I told you I was obsessed with coconut water. I can't get enough of this stuff!
And of course, there's always time for a glass of wine at the end of the day. I never really understood how people unwind without a glass or two... Or maybe that's just me?
And obviously I drink a lot of coffee... it just doesn't always last long enough for me to actually remember to take a photo!
And last but not least...
I think it should be a kind of tradition, finishing off a WIAW post with a photo of Patchie. Here she is sitting pretty and looking like the princess she is! FYI she never sits in those chairs unless I was sitting there first. Go figure, she always has to take my spot!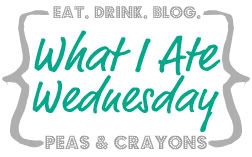 Happy Hump Day, everyone!
Love,
Ves xx